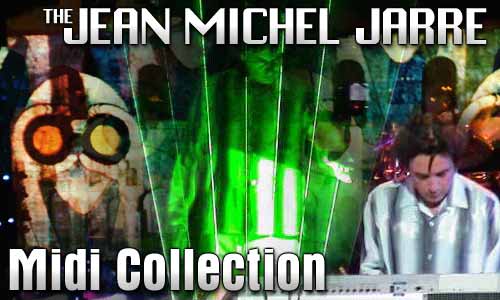 Last Updated : 15.10.2001 ... Click here to see the updates.
Click here to try the Jean Michel Jarre Quiz!
This week's Poll is based on concerts, click here to check it out.
Please click here to see who helped with this site and more importantly how.
Welcome to the Jean Michel Jarre MIDI Collection, by Tom Emmett.
Sorry for the delay in updating the web site, I have been having some technical problems with my server, 20m. But I have finally managed to update the site with a few nice MIDI files and a nice new Flash introduction on the main page :-)
© Notice: if you believe any MIDI files on this web site have been copy righted by yourself, please contact the web master here.
If you have a MIDI file to send to the web master, either a remix or a track not on here, click here.
Please take a minute or two to sign the Guestbook!
If you have any comments about this MIDI collection, feel free to contact the web master here.
New files will be added as they are acquired.
Thanks for checking out the Jean Michel Jarre MIDI Collection! :-)